BUDGET
Cases for the Budget Conscious
view Products
WORK
Professional cases for the Office
view Products

GAMING
The Ultimate in Gaming cases
view Products
Weekly Deals
WHAT ARE YOUR NEEDS?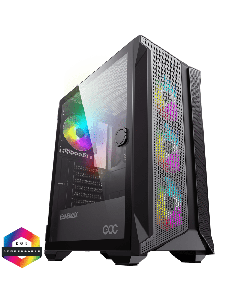 A NEW PLAYER EMERGES
We are a new player in the pc case business. Having helped build up ionz.co.uk in the computer case field
REDEFINING YOUR EXPECTATIONS
We're an experienced player in the retail business and are bringing our expertise with customer service to the PC
PURE PASSION FOR CUSTOM PCS
Here you will find out our weekly Deals and any special Bargains we may have.

!! NEW !!
From The Ionz Pro Gamer Range - TAIYO unboxed and demo'd.
The iONZ TAIYO put under the spotlight with full a complete demo of this bargain PC gaming case. 2 x 200mm ARGB Fans and a Mesh front ensure maximum cooling in this performance case. Looking to show off your expensive components and clean build? The LHS panel is Tempered Glass, so that everyone can see what you are packing
Our Ionz range of PC cases and accessories has been expanding quickly and we are always looking to improve and excel in all fields, from presales to aftercare. If you need hardware advice or installation help, Pc Gaming Cases will do our very best to assist.
!!! iONZ Taiyo, Best Budget Gaming PC !!!