The most extraordinary PC case is more than simply a place to store your computer components; it's also a conversation piece for your desk that says something about you. There are possibilities to go as simple or as ornate as you like, from an entire pc case with a half-dozen fans to a few mini with LEDs. Others may desire a smaller, more subtle look, while you may prefer a gigantic tower of RGB fans.
This post will go over the most delicate PC cases for 2022. We'll also explain why each spec is crucial when deciding which case to buy.
Ionz PC Cases -
The best PC cases in 2022 can offer significant, straightforward ways to keep your components safe and secure, so building a new system doesn't have to be frightening. Of course, form and function come first, but we'd be dishonest if we said style didn't play a role as well.
Whether you've had your heart set on a stunning Mid Tower or want the most room possible with a Full Tower - with or without RGB - these are some of the best selections for IONZ PC Cases for all budgets and preferences.
IONZ KZ21 ATX CASE HINGED TEMPERED GLASS SIDE CLASSIC BLACK - 
The KZ21 is the new product added in Ionz Pc Cases. The tempered glass side window case supports ATX motherboards. The size is 413 mm x 219mm x 485 mm. With ATX, Micro ATX, ITX motherboard support, this mid-tower pc case comes with advanced features and is available in an affordable price range. Get the best deal here.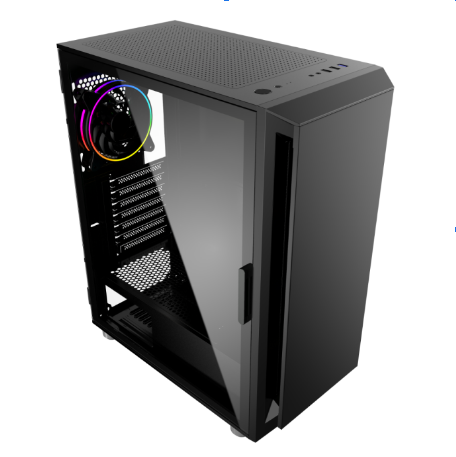 IONZ KURO GAMING CASE WITH TEMPERED GLASS SIDE
The Ionz Kuro gaming case has an advanced classic side panel tempered glass design. It has a high airflow front for cooling. 3 x 120 mm RGB LED fans (included) on the front panel, 2 x 120 mm fans on the top cover, and 1 x 120 mm fan on the back. A great, high-airflow yet stylish option for you, with an excellent cooling solution to help keep temperatures low. The 1 x USB3.0 and 2 x USB2.0 connections make it simple to access portable storage.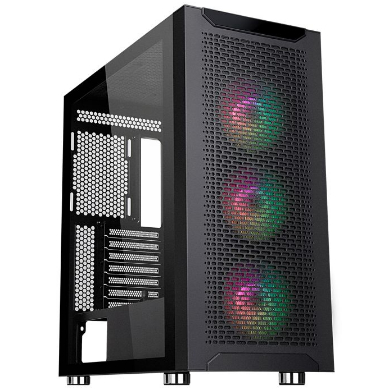 IONZ KZ08 CLASSIC BLACK WITH TEMPERED GLASS SIDE PANEL ATX CASE
Ionz's KZ08B adds a classic colour splash to the traditionally white KZ08. The Case's internals is exceptionally accessible for quick upgrades and cable management, and it can accept a CPU cooler of up to 165mm and a GPU of up to 285mm. ATX, Micro ATX, and Mini ITX motherboards are all supported by the enclosure. With the cage open on both sides, it has room for a bottom-mounted PSU.
IONZ GAMER EDITION KESSHŌ ATX PC CASE
A stunning front panel with a striking geometric design inspired by crystals. Having sufficient airflow and cooling from the ARGB Fans installed ensures peak performance. Do you want to show off your high-end components and well-kept build? Tempered glass is used on the LHS panel so that everyone can see what you're carrying.
IONZ GAMER EDITION TAIYŌ ATX PC CASE
In this performance case, 2 x 200mm ARGB Fans and a Mesh front offer optimal cooling. The stylish and streamlined design is further enhanced by the top mesh dust cover and integrated top panel connectors. You'll never be short on options when designing your dream system, thanks to a generous cable management depth of 28mm and integrated cabling access ports.
FLASH GAMING MATX CASE 4X ARGB FANS TG FRONT AND SIDE PANELS EPE
There are four rainbow fans on The Flash. You can also add an AIO water cooler with enough room at the front and top to accommodate a 240mm radiator. At the back of the case, a 120mm radiator can be installed. The Flash strikes the ideal blend of elegance and utility. Three pre-installed rainbow fans help create a magnificent illusion behind the elegant front panel design composed of toughened glass.
BRUFEN C1 ARGB CASE 4 X ARGB FANS TURBO MB COOLING FAN
The Brufen C1 supports up to 8 fans and comes with a V2.0 PWM ARGB hub that connects directly to your motherboard through a 3pin ARGB connection, allowing you to control your fans and LED strip using the mobo's software. The Brufen C1 is the ideal chassis for airflow, with five pre-installed fans - four 120mm ARGB fans and one COC turbofan on the motherboard plate - changing the landscape. Never again will you have to be concerned about keeping your computer cool.
Get Great Deals On Best PC Cases Online - 
Whether it's one of the top PC cases on our list or something else, you can find great deals on other PC cases brands like NZXT, CIT, Corsair, Fractal, etc. Explore PC Gaming Cases, gaming accessories, power supply units at pcgamingcases.co.uk  today.